Information on the Sale of "SILKYPIX Developer Studio Pro6 Download Version (Mac OS / English)"
June 30, 2014
Ichikawa soft laboratory Co., Ltd.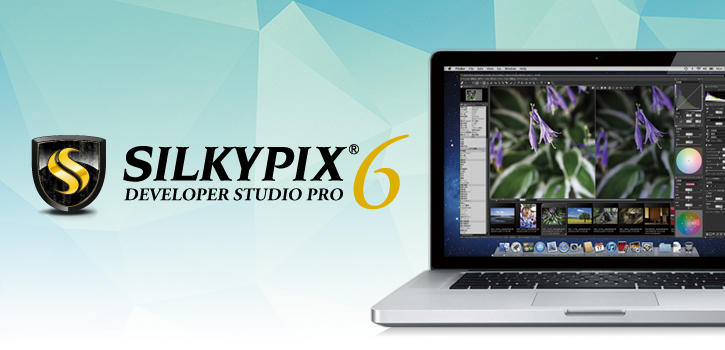 Ichikawa soft laboratory (location: Mihama-ku, Chiba-shi; President: Yoshikuni Ichikawa) has released the latest version of the digital development software "SILKYPIX Developer Studio" series English version of "SILKYPIX Developer Studio Pro6 Download Version (Mac OS)".
You can purchase a license for the English version of "SILKYPIX Developer Studio Pro6 Download Version (Mac OS)" from Ichikawa soft laboratory's online store (http://www.isl.co.jp/shop_v2e/).

SILKYPIX Developer Studio Pro6 is the latest version in the SILKYPIX series, developed with the aim to improve its "pleasing performance" and "high resolution."
This digital development software includes high-speed reading of RAW data, functions for sensitive image editing, and a high resolution image processing engine, with a wide range of support from editing to printing.

Regular Sale Price
- Regular Sale Price: ¥28,080
(sales tax included)
The Upgrade Price
We offer upgrade price became a time-limited special offer price is abolished. SILKYPIX series customers can purchase SILKYPIX Developer Studio Pro6 at an upgrade price any time.
We offer one license of SILKYPIX Developer Studio Pro6 for your existing license at upgrade price.
- For SILKYPIX Developer Studio Pro, Pro5,
Pro5 for Panasonic customer: ¥11,232 (sales tax included)
- For SILKYPIX Developer Studio 3.0 or 4.0 customer: ¥16,848
(sales tax included)
- For SILKYPIX bundle version customers: ¥22,464
(sales tax included)
[List of SILKYPIX bundle versions]
CASIO - SILKYPIX Developer Studio 4.0 for CASIO
FUJIFILM - RAW FILE CONVERTER EX powered by SILKYPIX
PANASONIC - SILKYPIX Developer Studio SE
PENTAX RICOH - SILKYPIX Developer Studio 3.0 LE (for PENTAX)
TAMRON - SILKYPIX Developer Studio 4.0 for TAMRON
You can register 2 computers with 1 license of SILKYPIX Studio Pro6.
This license is the same Windows / Mac OS.

Easy to use interface
A balance of functions required for editing photographs is included, corresponding to a change in interface which is easy to use. In addition, it is compatible with the display layout that matches with the editing environment you use. You can easily use it on a wide variety of scenes, from notebook computers to large LCD monitors.
Image Processing Engine with Both a Quick Processing Speed and High Resolution
SILKYPIX's features of "smooth harmony" and "high resolution," as well as "excellent color reproduction" means that there is no loss in image quality. The program has been optimized for high speed.
Improved Image Quality during Noise Reduction
The latest developed noise reduction algorithm "NR5," has been installed, improving the quality of images during noise reduction.
Simulation Function for Color Management and Print Results
A function has been added for the process of accurately editing through printing, including color management on the monitor and when printing. By designating an ICC profile, you can have print warning displays that simulate printing on your monitor close to your printing results.

| | |
| --- | --- |
| Operating System | Mac OS X v10.6 - v10.9 |
| CPU | Intel® Core 2 Duo or later is recommended(64bit support required) |
| Internal Ram memory | 2GB of RAM(Recommend 4GB or more) |
| Available HDD space | 10GB of Available hard-disk space or more |
| DISPLAY | XGA (1024x768), Full Color (24 bit or higher) |
| OTHERS | Keyboard, mouse, or equivalent devices. |

Development process/Output process
Easing low frequency color noise in wide areas
Easing Brightness Noise
Improved Maintenance Level of Outlines during Noise Reduction
Adjusting Bright Sections and Dark Sections with Dodge Functions / HDR Functions
Red eye correction
Portrait Beautification
Adding noise
Automatic level correction
Unsharp mask during preview
Changing shading center
Soft proofing
(Display of Printing Warning)
Hot Folder
Displays
Navigator
3 column correspondence to controls
Improved Marks
Full screen preview
Applying Spoit tools to Thumbnails
AVX2 Support
(Windows only)
Individual displays of JPEG / TIFF with the same name

"SILKYPIX Developer Studio" is compatible with various cameras with a wide range of RAW development, and has an established reputation for becoming quickly compatible with new models.
As new camera models often become compatible at a fairly rapid pace, please see our website for the latest information.
*This is not a guarantee of compatibility with any particular camera.

"SILKYPIX Developer Studio" is software for developing high quality pictures as you imagine from RAW data shot on digital cameras.
What kind of high quality images can you obtain by using the strong capabilities on your computer? Some of the demerits specific to digital cameras that were thought to be inevitable, for example, unnatural edges on high chroma color borders, false colors on portions with a fine structure and color noise in highly sensitive shots, have thoroughly been brought under control, resulting in both higher resolution and color distinction. The name SILKYPIX comes from our aim to produce silky smooth natural photographs.

| | |
| --- | --- |
| Company name | Ichikawa soft laboratory Co., Ltd. |
| Location | Makuhari Techno garden Bldg.CD5F,1-3, Nakase, Mihama-ku, Chiba-city,Chiba 261-8501 Japan |
| E-mail | info_english@isl.co.jp |