This software has warning functions to support parameter adjustment.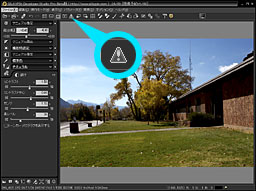 When you click the

button on the toolbar, you can enable each warning.
A warning will be displayed through blinking on the preview image.
| | |
| --- | --- |
| (1) | Enable Highlight warning |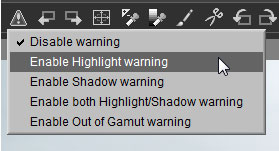 The portion where highlight or color is saturated blinks.
The portion where highlight is saturated blinks in black, and the portion where color is saturated blinks in negative color.
This function is convenient for adjusting "exposure bias" and for adjusting "saturation" of color.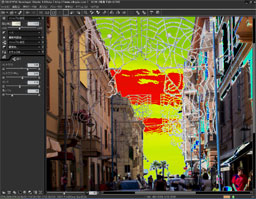 | | |
| --- | --- |
| (2) | Enable Shadow warning |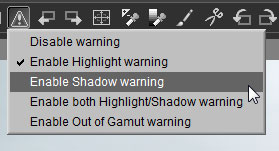 The portion where the shadows are underexposed blinks in white.
| | |
| --- | --- |
| (3) | Enable Both Highlight/Shadow warning |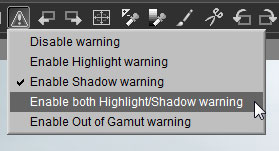 This feature gives both the highlight warning and shadow warning simultaneously.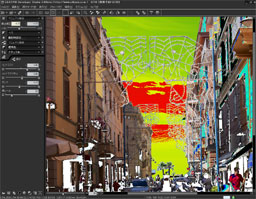 | | |
| --- | --- |
| (4) | Enable Out of Gamut warning |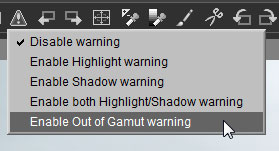 This feature gives a warning for the portion where the color is outside of the color gamut. It means that the saturation in this portion is to high.
Please refer to '10.1.6 Color Gamut and Adjustment Outside of Gamut'.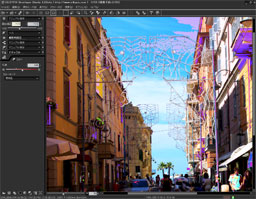 You can customize these warning levels. Please refer to '9.3 Function Setting'.
The menu command [View(V)]-[Histogram(H)] displays the "Histogram" sub-control.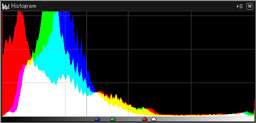 Histogram displays a brightness distribution on a picture.
You can check which part of the picture has what level of brightness. The horizontal axis shows brightness (0-255), and the higher the value (right side), the greater the brightness.
The vertical axis shows the number of pixels that corresponds to relevant brightness level. R,G, and B are displayed in each color on a graph, and the place where these overlap it is displayed as an additive color mixture.
6.2.1. Display of Histogram
The arrow displayed on the gray scale at the bottom has the following meaning.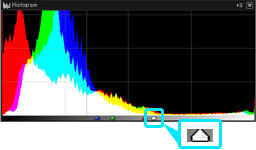 This indicates a contrast center of tone.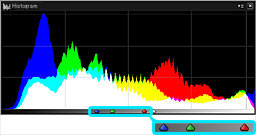 This displays RGB value at the point where the mouse cursor is on. The value corresponds to the brightness position on a graph.
It is very effective to check where a color of a point on a screen is distributed on a histogram.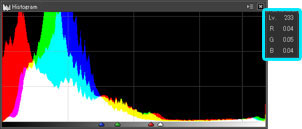 In addition, by clicking a graph, you can see each brightness statistic of the RGB.
Lv is the value given to brightness (0 ~ 255) shown on the horizontal axis. "R," "G" and "B" are the statistical values for RGB in percentage (%) units.
If the histogram of the image is evenly distributed for each RGB value (Lv value), the value for each statistical value 0 ~ 255 will be 1/256 = 0.39%.
For normal photographs, most of the area will be in the range of 0.00 ~ 2.00, but brightness distribution may be consolidated in a photograph whose subject is almost a single color, such as completely dark photographs and macro shots of flowers.
Shortcut keys and Function keys that you can use in SILKYPIX® Developer Studio Pro 5 are shown below.