About
Photo ExpressViewer®
"Photo ExpressViewer®" displays a large number of JPEG, TIFF, and RAW image files stored on the hard disk or external storage device of a personal computer at high speed, and allows you to easily rate, select, and browse photos.
High-Speed
"Photo ExpressViewer®" utilizes the GPU (Graphics Processing Unit), which specializes in drawing images, to enable high-speed displays even for large numbers of images.

In addition, RAW files requiring demosaicing can be quickly displayed by utilizing the preview image* embedded in the data.
The display may be restricted depending on the format of the preview image (thumbnail image). Images cannot be displayed with image data that does not have a preview image. At first please confirm an images display by a trial version.
Various marks
This software is equipped with a Five-star Rating function that allows you to link with the camera and other software as a mark for grouping and selection of photos. You can also add intuitive User marks (Red, Blue, Green, Yellow, and Purple) to your photos. Incidentally, User marks can be added in duplicate, so up to 32 combinations can be classified.

In addition, you can also set a favorite mark (heart shape) for commemorative photographs and special photos. It can also be used when viewing photos that collect only your favorite memories.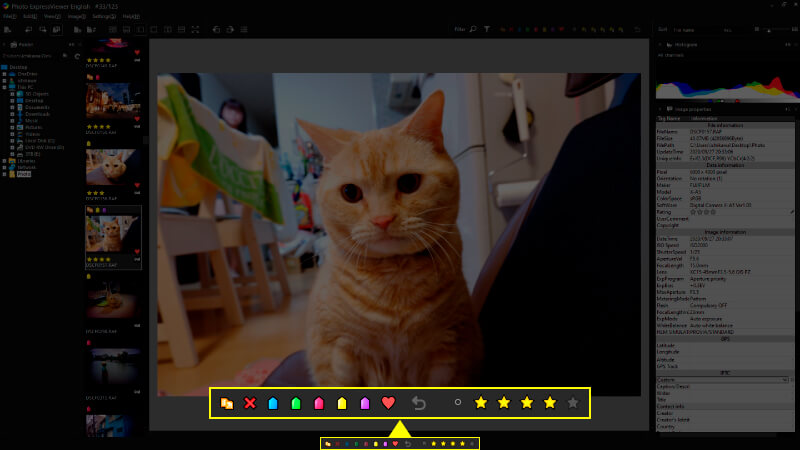 Search and Filter
In addition to searching for Five-star Ratings and User marks, you can also search for photos based on Focal length, Aperture value (Av), Time value (Tv), ISO speed, Date, and File extension of the image.

You can also search by keyword by setting keywords in the image. Therefore, you can also find the desired photo with your original word.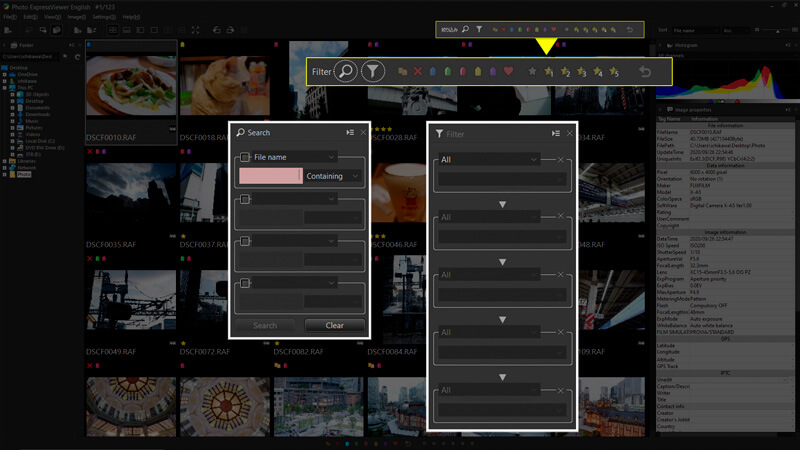 Arbitrarily sort
You can sort photos according to rules such as file name and photo info in order of your choice. Simply drag and drop the photograph you want to move. This is useful when you want to sort photos with your own rules.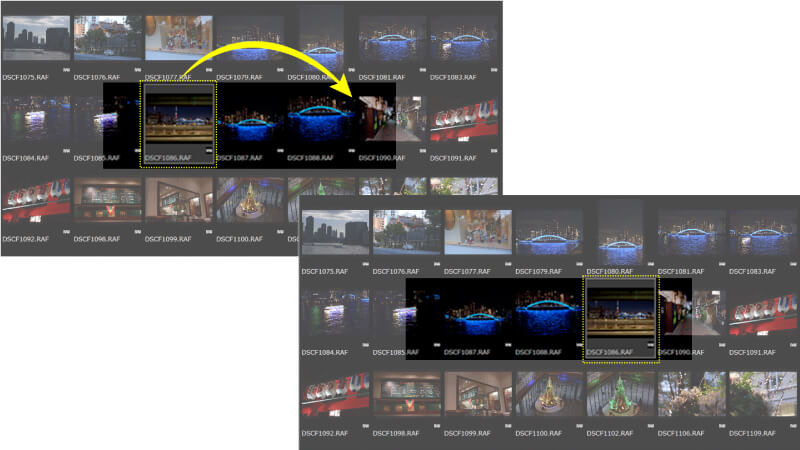 File name management
This software is equipped with a function for import images from a recording medium. When a recording medium is connected to the computer, a dialog box will appear asking you to specify the storage location and file naming settings.

If you have more than one camera, you can centrally manage the file name and configure the file name with your own rules.

The Import from media is also equipped with a Folder sort function and a Rename function. Therefore, folders can be sorted according to the Date taken and shooting data, and the file name can be batch converted.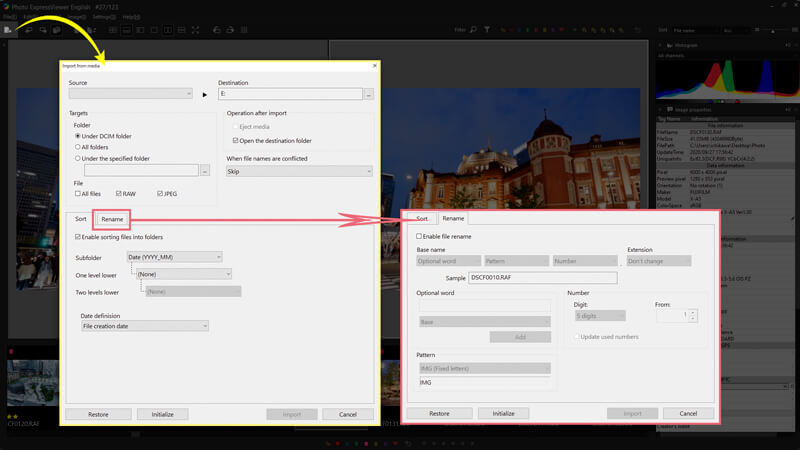 Multi previews
You can compare two photos side by side on the preview screen when you are concerned with selecting photos, such as landscape photos with similar compositions or slight differences in expressions in portrait photos. Photographs can be placed vertically or horizontally. Therefore, it can be used according to the vertical position photograph or horizontal position photograph.

In addition, each photograph can be enlarged and moved during Multi preview so that details can be compared easily.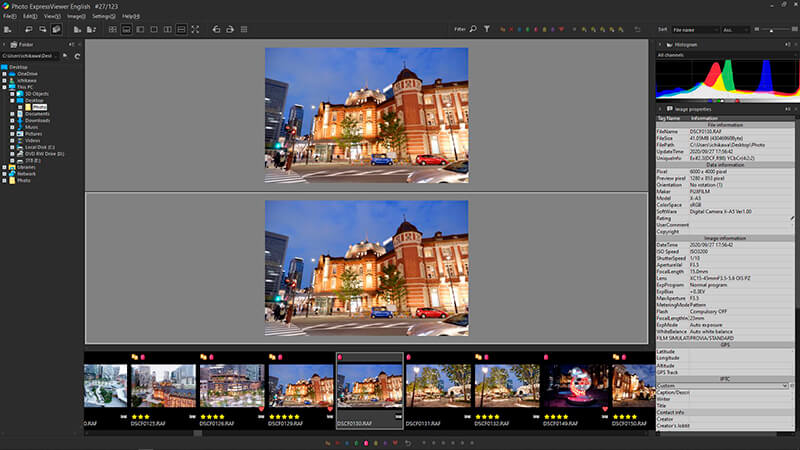 Shortcut key
Shortcut keys are set in advance for commands that are frequently used, assuming a large amount of photo selection for business purposes. Customized Shortcut keys settings are also available so that you can set up shortcut keys to suit your use.

Use the Shortcut keys well to increase the efficiency of Photo Select.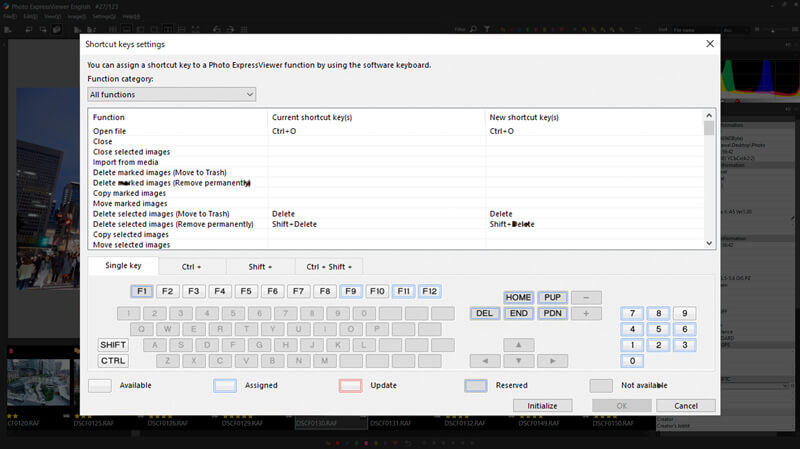 Display image information
When you list photographs, the thumbnail displays only file names. However, by turning on the Image properties in Display settings, you can display the Date taken, Aperture value (Av), Time value (Tv), and ISO speed together with the file name. You can select Display settings to suit your needs and preferences.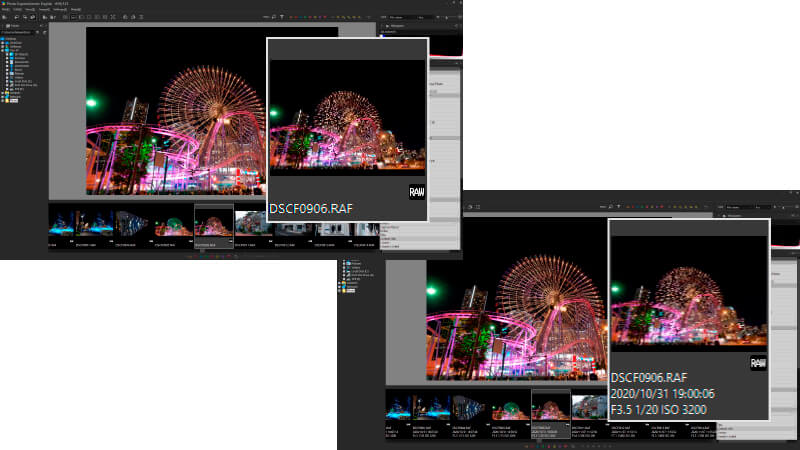 List of Other Functions
Switching the Display modes (Preview / Thumbnail / Combination modes)
Changing the Background color
Rotating images
The selected image is fixed to the center of the thumbnail
Batch rename
Copy / Move / Delete marked images
Full-screen preview
Monitor profile
Display grid ON / OFF
Sort thumbnails with Image properties
Edit IPTC information tastes
Export metadata in XMP format
Histogram
Open with another application
System requirements
Microsoft® Windows® 11 / 10 64-bit version
* It does not correspond to the Windows® 10 tablet mode.
* It does not correspond to 32-bit version OS.
Intel® Core™ 2 Duo or higher, or AMD Athlon™ 64 X2 or higher processor
Graphic board compatible with DirectX 10 or higher
4GB or more RAM (8GB or higher recommended)
10GB of available hard-disk space or more
Display that supports a screen resolution of 1024×768 or higher
Notes
"Photo ExpressViewer" and "SILKYPIX" series cannot be started at the same time.
Two PCs can be registered with one Photo ExpressViewer® license.