SILKYPIX Developer Studio 8 SE Startup Guide
3. Image Selection and Screen Display
3-1. Display modes
Screen display modes according to uses and the environment
Screen display modes can be changed according to the size of your computer screen or the subject.

1. Thumbnail mode
Displays a list of thumbnails. Double-click a desired thumbnail to view it in the preview mode. The size of thumbnails can be changed in 5. [Image width in thumbnail window].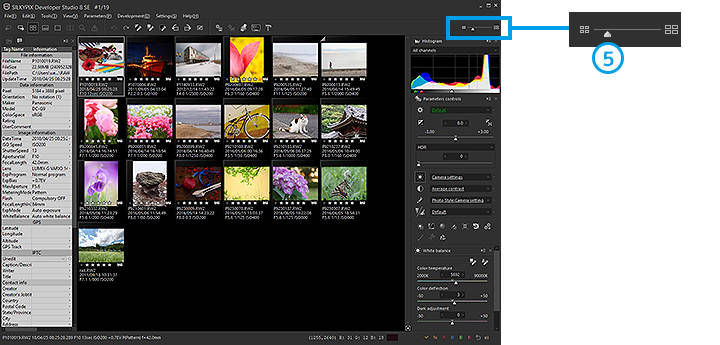 2. Combination mode
Displays images in the thumbnail mode and preview mode at the same time. Selecting a thumbnail will display the image in the preview mode.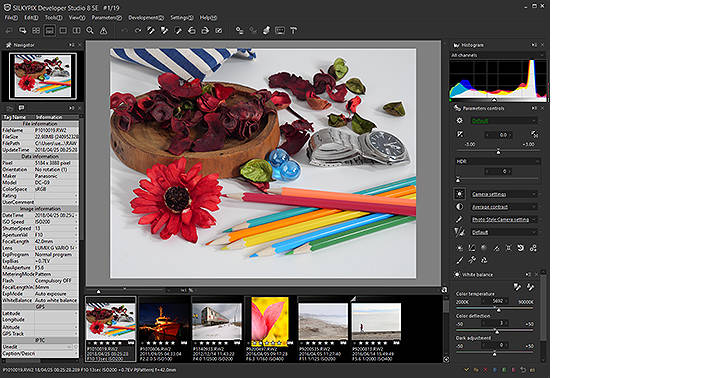 3. Preview mode
A single enlarged image is displayed. Double-clicking on the image will display it at 100% magnification. Double-clicking an image displayed at 100% magnification will show the image in fitted display. You can also zoom in and out of an image by using the 6. [Display magnification] slider.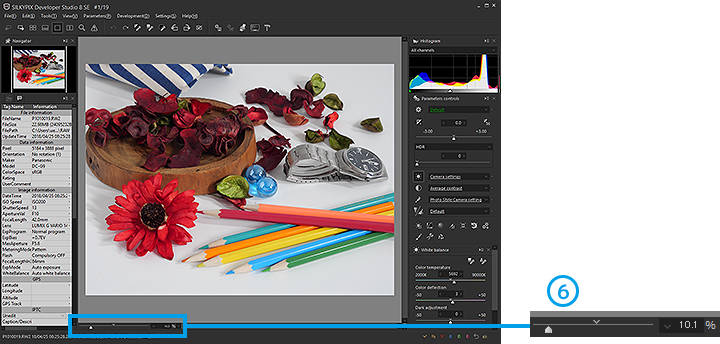 4. Multi preview mode
Images are displayed in two screens to enable you to make edits while comparing the same image before/after adjustment or comparing different images.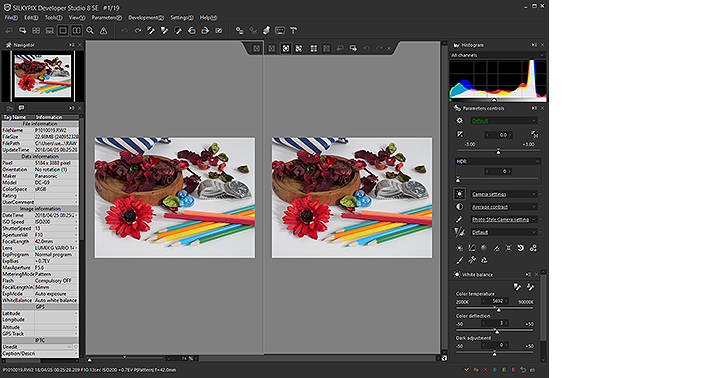 3-2. Display image information
Display EXIF and IPTC information
This view allows you to check detailed shooting information recorded in an image.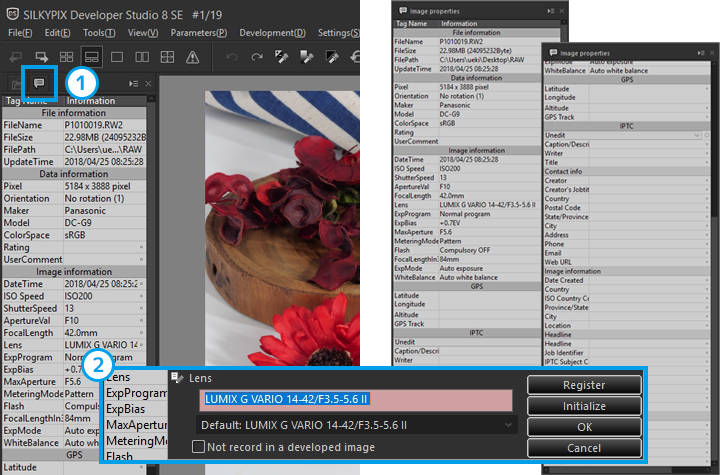 | | | |
| --- | --- | --- |
| 1 | Image properties | Shooting information recorded in an image can be checked by selecting the [Image properties] tab. |
| 2 | Edit image properties | The image property information can be edited for some items. Edited information is added to the generated JPEG/TIFF image. |
3-3. Display warning
Warning of blown-out highlights and blocked-up shadows and emphasizing focus
You can set supplementary functions such as warning displays, print simulation, and emphasizing focus.

| | | |
| --- | --- | --- |
| 1 | Highlight warning | Emphasizes blown-out highlights on the preview screen. |
| 2 | Shadow warning | Emphasizes blocked-up shadows on the preview screen. |
| 3 | Highlight/Shadow warning | Emphasizes blown-out highlights/blocked-up shadows on the preview screen. |
| 4 | Out of color gamut warning | Emphasizes colors that cannot be reproduced in the set color space on the preview screen. |
| 5 | Soft proofing | Simulates on the preview screen the colors that will be printed by specifying a print profile. |
| 6 | Focus peaking | Emphasizes focus areas on the preview screen. |